Do you have newborn-baby-envy? Do you wish your posts could get as much engagement on Facebook as when your friends announced their engagement? Ever wonder if it's even possible for that many people to love your posts on Facebook?
It is possible for you. But unlike the babies, diamond rings, and puppies of the world, you'll have to work a bit to create viral content. Fortunately for you, I've spent many years doing it, and you can learn from my experience. I'm laying out methods that will save you a ton of money, time, and heartache as you work to grow your business on Facebook by building viral social content. I developed this method while creating content to reach millions of people, make tens of thousands of sales, and grow dozens of brands from the ground up.
Don't Advertise on Facebook Without Reading This
If you're running paid campaigns, these methods will save you tens of thousands, even hundreds of thousands of dollars each year. You can save that much in ad-spend alone, but you can also save money on content creation and hiring. Meanwhile, you'll bring in more sales at a lower cost than you would have thought possible.
Without using this knowledge, you will have a hard time reaching the potential for your business on this giant channel. Tons of brands get it wrong, and they fail constantly. And, many of them have huge ad budgets! They can spend a lot more money to reach people, and they have a lot more resources.
As a small business or solo entrepreneur, this is even more crucial. How can you do better than them, with a smaller budget? And what will happen if you don't find a better way? You must, or you will be throwing away money trying to grow your business using Facebook.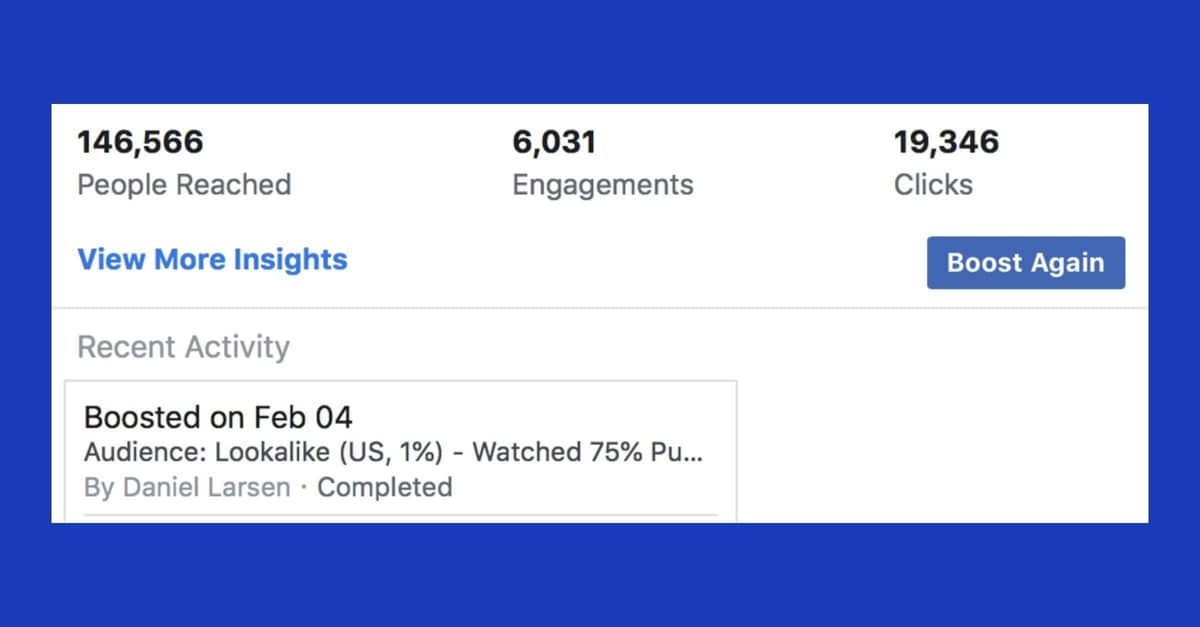 Find Your Customer's "Awww" Button
To build great content, you must know your customers well. Insanely well.
You should have a living, breathing customer avatar for each of your customer types. Now is the time to dig deep into it. If you don't have a customer avatar, you need to make one (click here for a template). For this article, I'll assume you've already done this.
Spend extra time thinking about what's really important to the person in that avatar. You're looking for the deep stuff, what they're passionate about. Not just where they get their groceries (unless you're a vegan gluten-free non-GMO superfood only store, and they're obsessed with all of those things).
Why? The key factor to creating viral content and making sales online is actually not unique to the online world. It's not an internet tactic, tech trick, or software solution. It's as old as the first humans. It's also an Aerosmith song. Sweeeeeeet Emotion.
The examples I mentioned in the beginning of this article provoke a number of different emotions in people. Let's use the engagement announcement as an example. There are more types of emotional response to these posts than you might expect.
There are the kinds of emotions that seem obvious, and they're generally positive. Feelings of love, affection, joy, and admiration. 99.9% of the reactions you see are due to these emotions. People hit the "love" reaction, they comment with congratulations and express how happy they are for the people becoming engaged. And most of them mean it, at least at some level.
You're not going to enjoy reading about the other emotions. But you know they exist if you really think about it honestly. They're generally negative emotions, and you need to know about them.Ironically, these emotions cause people to act, beyond "reacting" to the post or "liking" it – more than do the others.
Pride – Ex: "I'm so proud of my friend for landing such a catch."

Action: Humble-brags about how they helped it happen.

Envy (often incorrectly called jealousy) – "I wish it was me instead."

Action: Searches harder for a mate / puts pressure on current significant other. Men shop for advice, dating coaches. Women shop for advice, rings, dresses, and other parts of their dream wedding. Both will Gossip.

Jealousy (the fear of loss). "I hope I don't lose my friend to this new life."

Tries to prove themselves worthy of more attention by being a more attentive friend.

Self-doubt. "Why not me?" Feelings of inadequacy, wondering why their mate hasn't swept them off of their feet. Wondering if it will ever happen.

This is the most negative emotion and can provoke a wide variety of behavior. Positive behaviors: Introspection, self-improvement, self-care. Negative behaviors: Dopamine seeking (food, drugs, "retail therapy"), drinking, tearing others down.

That list is not exhaustive, nor is it one-sided stereotyping. It's a set of observed human behaviors.
You may think you don't need to know all these, but you do. It isn't pleasant to think about the rollercoaster of emotions people go through, especially the negative ones, but it's a crucial part of understanding the psychology of marketing.
And, understanding the psychology of marketing is the only way to make truly great content. If you focus on it, you'll be exponentially better at selling online, especially on Facebook.
What Emotions Cause Your Customers to Take the Actions You Want?
With each post, think about what you want your audience to do when they see it. Do you want them to laugh? To cry? Sad tears or happy tears? Maybe you want to shock them a bit, blow their minds, and make them feel grateful for you as a resource.
Take a step back. Think about this in terms of your brand, services or products as a whole. What emotions will get your audience's attention? Which feelings will make them want to stay tuned for more? Which ones will make them want to share your content? Which emotions will help you build trust? Which ones will make them want to buy from you without you asking?
Evoke a Strategic Mix of These Emotions With Your Content
Each individual post should target one main emotion. If you try to capture all of them with each post, you'll capture none of them. You can target one or two secondary emotions, but always know your primary emotion and go for that above all.
Lead with targeting the emotions that will get their attention, make them want to see more, and make them want to share. Whether you sell consumer products or business services, humor always helps.
Follow that with posts that will make them value you as a source. You are one voice among millions, how will you make yourself invaluable to the people that are invaluable to your brand?As you grow and become more and more valuable to a larger audience, trust should follow. There's an old saying, which Author Ryan Holiday turned into a book title about media manipulation – Trust Me: I'm Lying. The saying illustrates the funny concept of trust. You can't tell someone to trust you – you just have to show you can be trusted.
Use Elements Your Audience Cares About
You have a split second to convince someone they should invest in reading a short post, watching a short video, or even look closely at a photo. If you win that battle, you have 2-3 seconds to convince them to invest another 20 seconds.If you want their attention, you have to make it right up their alley. Use everything you know about them to create images, videos, and written copy that they can't skip.
[thrive_custom_box title="Random Example, Off The Cuff:" style="light" type="color" color="#6b98c2″ border=""]Let's say you sell surfboards, and for example only, your buyers are primarily male. He likes surfing (of course), big waves, cheese and crackers, and he dreams of meeting a surfer girl who loves all of these things. What can you do?
You can show a picture of a surfer, about to eat a cracker with cheese on it, as a huge wave approaches. He eyes the big wave, as a surfer girl waiting on waves next to him reaches her hand out for the cracker with cheese, a flirty look in her eyes. Caption: "You can only choose one. Which is it?[/thrive_custom_box]I just made that up. I don't know if it would work. But I can say with relative certainty that it would do better than 95% of the posts brands are using on Facebook. Yes, you will have to plan out your content in order to create a lot of great posts cost-effectively. But, not every piece of content requires a setting, models, and photographers. If you know your customers well, the creative possibilities are endless.
Stay Consistent With Your Content Over Time, and Recycle The Best Stuff
If I told you that you could spend five hours, and get paid $5,000 for that work, you would probably take it, right? If two months later, I told you that you can spend another five minutes, and make another $4,000 for that same piece of work, you wouldn't take it though, right?
Wrong! Yet, it happens every day.If you create something of value, and it brings you some form of compensation, get as much as you can out of it.
If a post gets extremely high engagement, use it again.
If a post drives sales, use it again.
If a post gets you customer feedback, use it again.
The Facebook algorithm is the gatekeeper to your audience. It is designed to only show your content to some of them. You're competing with other posts, and there's no way facebook can show all the content to all the people before they sign off. The better it is, the more people will see it when they're online. But, no matter how good your content, most of it will only reach part of your audience the first time around.
If it was well received the first time, it will probably do well again, and again, and even again.Note: This assumes that your content is evergreen – not seasonal or tied to a particular event, etc.
If You Aren't Getting Results, Go Back to Your Customer Avatar
Measure up your content in the context of your audience. For each piece, make a checklist:Does it include things/people/places/activities they care about?Is it something only they would understand?
Is there a reason for them to engage with it?
Are you in tune with their sense of humor?
Good content is about your audience, not about you. Never forget that, and you'll save (and make) yourself a ton of money advertising on Facebook.
Still don't have a Customer Avatar?
Use this Free template to create one now!